Amr Baz Earns Lifetime Achievement Award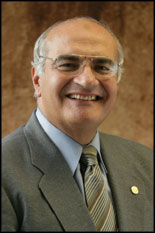 Professor
Amr Baz
is being honored with the SPIE Smart Structures and Materials Lifetime Achievement Award for 2011. The SPIE Smart Structures and Materials Lifetime Achievement Award is presented to a distinguished scientist or engineer in the field of smart structures and materials to recognize significant service to SPIE as well as lifetime contributions to the field of Smart Structures and Materials.
The award recipient is selected by a comprehensive proportional balloting procedure in which all prior winners of the award, as well as all current Conference Chairs and the Executive Committee of the SPIE SS/NDE 2011, are eligible to vote. SPIE is the former Society of Photographic Instrumentation Engineers. Baz will receive the awards during the SPIE Smart Structures /NDE 2011 Conference to be held in March at the Town and Country Resort and Convention Center in San Diego, California.
Baz began his professorial career as a Post Doctorate Fellow at the University of Wisconsin in 1973. He then joined the faculty of the ME Department at Cairo University as an Assistant Associate Professor. He joined the faculty at Catholic University in 1983, where he became a Professor after three years. In 1997, Dr. Baz joined the faculty of Mechanical Engineering at Maryland. He has served as the Director of Smart Materials and Structures Research Center since 2000. His research interests include the active and passive control of vibration and noise; active constrained layer damping; magnetic composites, virtual reality design of smart structures, and active acoustic metamaterials. Baz is a Fellow of ASME and a previous Chair of the Washington, D.C. Chapter. He is an Associate Editor of Vibration and Control Journal, Intl. Journal of Smart Structures & Systems, and Journal of Mechanics of Advanced Materials and Structures. Baz has authored more than 145 refereed journal articles and published four this year so far. In 2009, Baz won the ASME Adaptive Structures and Material Systems award and the Pi Tau Sigma Purple Camshaft Teaching Award (University of Maryland).
For more information on Professor Baz and his research, please visit his faculty page.
Published November 15, 2010