Sharon Awarded Newport Spectra-Physics Research Excellence Travel Grant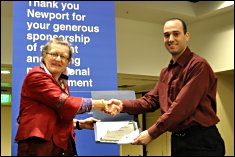 Gilad Sharon, a Ph.D. candidate working with Professor Don Barker since 2005, recently received the Newport Spectra-Physics Research Excellence Award from the
International Society for Optics and Photonics (SPIE)
. This award recognizes the outstanding research achievements of 19 university students worldwide and provides them with funding to attend the two largest SPIE conferences. Sharon accepted the prestigious award on January 25th at the SPIE Photonics West Conference in San Francisco, CA.
Sharon was recognized for the research paper he wrote with Professor Barker, called "Crack Growth and Reliability Modeling of Multi-Layer Capacitors in Microelectronics Applications." His research paper examined how finite element analysis can be used to model micro-level failures within ceramic capacitors. In his experiments, capacitors were subjected to cyclic bending, vibrations, temperature variations, and high-gravity loading and his paper questioned whether the replacement of SnPb eutectic solder with lead-free solders contributes to the formation of cracks in the capacitor's dielectric body.
Sharon earned his B.S. in mechanical engineering with department honors from the University of Maryland in 2005 and decided to continue toward his Ph.D. in the department. According to Sharon, he stayed at UMD "because of the strength of its mechanical engineering program and because of the wide range of its research partnerships and involvement." The doctoral candidate performs research, testing, and analysis in support of the Electronics Products and Systems Consortium of the Center for Advanced Life Cycle Engineering (CALCE) and thanks Professor Barker for much of his success. He states, "Dr. Barker has helped me to gain a strong understanding of how to analyze, evaluate, and predict failure mechanisms inside electronic components and how to improve the design of electronic packaging and assemblies."
Also the vice president of the ME Graduate Student Association (MEGA), Sharon was recognized for his research last year at the Ph.D. Colloquium of the 2010 Winter Simulation Conference in Baltimore, MD. His achievements were also noticed when he presented a research paper to the 43rd International Symposium on Microelectronics in Raleigh, NC in 2010, discussing how plated through holes and their reliability are impacted by mechanical stresses. His current research at CALCE focuses on failure analysis for multi-layer ceramic capacitors and other microelectronic components. After earning his doctorate, Sharon hopes to build on his research knowledge and experience and to work on challenging technological applications.
Published March 15, 2011