ME Alum Achieves Tenure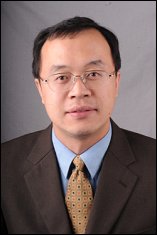 "UMD gave me a chance to learn so many things. The courses…projects…research…all impacted my career path significantly."
ME alum
Zhaoyang Wang
('03) has recently achieved tenure as an associate professor at the Catholic University of America (CUA) in Washington D.C. Wang earned his Bachelor's, Master's, and Ph.D. from Tsinghua University in China before embracing UMD as his new home in January 2000. He obtained a Ph.D. in Mechanical Engineering from the University of Maryland in 2003 under the advising of ME Professor
Bongtae Han
.
When Wang first came to America, he was deciding between three academic institutions: Ohio State University, University of Illinois, and University of Maryland. He decided to enroll at the University of Maryland ultimately because of the prominent Center for Advanced Life Cycle Engineering (CALCE) and UMD's distinguished faculty. Wang was familiar with Professor Han's work from his high standing in the ME community, but didn't meet him until he came to UMD. Wang recollects that Professor Han's enthusiasm, diligence, and creativity were all reasons why Han was an inspiration in his path to becomming professor. According to Han, Wang was an exceptional student and is very proud to have impacted him in such a positive way.
Wang came from a much different culture than the one that he experienced at Maryland. He says, "UMD gave me a chance to learn so many things. The courses I took, the projects and research I accomplished, the conferences I attended, the knowledge I gained, and the friendships I made all impacted my career path significantly." According to Wang, he took full advantage of the world class laboratories, renowned professors, and excellent academic and research environment, all of which prepared him for his future in academia.
Wang's academic success is demonstrated by his dozens of journal papers and software development that were published during his time at UMD and CUA. He is an active member of the Society of Experimental Mechanics (SEM), the American Society of Mechanical Engineers (ASME), and the Optical Society of America (OSA). In 2009, he received CUA's prestigious Charles H. Kaman Award for Excellence in Research, further recognizing his achievements in the field of engineering.
The Department congratulates Professor Wang for achieving tenure at the Catholic University of America.
To learn more about Professor Wang and his research, please visit his webpage.
To learn more about Professor Bongtae Han and his research, please visit his faculty profile.
Published November 17, 2010