Five Mechanical Engineering Graduate Students Selected for Clark School Future Faculty Program
Five Mechanical Engineering graduate students, Ramin Bighamian, Guang Chen, Zhiwei Huang, Colin Miller and Ryan St. Pierre, have been selected as 2016 Clark School Future Faculty fellows. 24 students were selected for this year's program from throughout the Clark School. The Clark School Future Faculty program aims to shape the future generations of professors within the engineering field.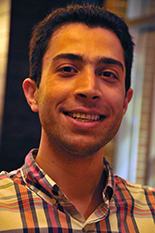 Bighamian is a fourth year Ph.D. student under the mentorship of Assistant Professor Jin-Oh Hahn. His current research centers on developing automated critical care systems that, when deployed, can monitor and administer optimum treatments to critically ill patients. He applied to the Future Faculty program to help hone his teaching and research skills for a potential career as a professor. He believes the current climate in many doctoral programs should work to produce students prepared to teach, and that the Future Faculty program can provide the necessary training and insight into this career that other programs lack. Through the program, he hopes to learn the "ins" and "outs" of what it means to be professor while balancing research, teaching and service expectations. "I think fellows want the program to show a clear path to those who find themselves more and more interested in a career as professors," he said. "We will be happy as we can more consciously make the decision between a career in or outside of academia."
Chen is currently a second year Ph.D. student supervised by Assistant Professor Siddhartha Das. Her research focuses on theoretical modeling of electrostatics and electrokinetic transport in polyelectrolyte (PE)-grafted nanochannels. She said she applied to the Future Faculty Program because there remains a lot for her to learn to become a qualified teacher. She believes she will gain these skills through her time in the program. She ultimately wishes to leave the program with a broader outlook, more practical skill sets, and maturity in research and teaching skills. Chen added "the reputable faculty and active academic atmosphere in the Future Faculty Program guarantee the quality of the graduated future faculty."
Huang is a third year Ph.D. student under the guidance of Professor Reinhard Radermacher, Director of the Center for Environmental Energy Engineering (CEEE). Their research emphasizes heat transfer and the development of next generation heat exchangers for residential heat pumps that have 20% lower pressure drop and 20% less volume and materials than micro-channel heat exchanger. Huang's future dreams of being a professor, doing research and nursing students drove her interest in this program. She said this program will help her foster both teaching and social skills from this program, and she hopes to meet more fellows who have the same goal of becoming academic professional.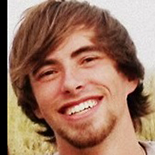 Miller is a second year Ph.D. student under the guidance of Assistant Fire Protection Engineering Professor Michael Gollner. He is currently funded by the USDA Forest Service Missoula Fire Sciences Lab working with the fire protection engineering program. His research focuses on fundamental aspects of wildland fire spread, and he currently investigates the fluid mechanics and instability mechanisms associated with wind-driven flames. Miller applied to the Future Faculty Program to gain a valuable toolset that will help him excel in a future academic position. He believes he will gain exposure to the demands of academia that will help set him apart in competitive positions, and hopes that these skills will make a meaningful impact in both his area of study and in educating future students within the field.
St. Pierre is a third year Ph.D. student in Associate Professor Sarah Bergbreiter's Maryland Microrobotics Laboratory who focuses on locomotion at sub-gram scales and understanding the forces and dynamics involved in building more efficient and effective small-scale robots. He applied to the Future Faculty Program because he wanted to expand his skills beyond the la. His ultimate goal is to continue on in research, academically or otherwise, and he believes this program will provide additional training that will allow him to become a more well-rounded researcher.
Program members take three one-credit training seminars, a teaching practicum and a research mentoring practicum. The three main objectives are to increase the number of qualified future teachers that will graduate from the Clark School, prepare selected doctoral students to achieve career-long success in the academic world as both teachers and researchers, and to place selected students in leading institutions and continue to partner with the University of Maryland.
Published April 19, 2016