Gupta Named ASME Honorary Member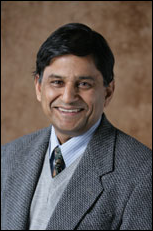 Distinguished University Professor Ashwani Gupta has been named a 2016 Honorary Member of the American Society of Mechanical Engineers (ASME). He joins fellow University of Maryland (UMD) Department of Mechanical Engineering Professors Avram Bar-Cohen (2007) and C.D. Mote Jr. (1997). This is the highest level of society membership offered by ASME.
ASME selected Gupta for his "distinguished research and educational contributions, particularly those related to energy and environmental sustainability; for mentoring high school students and for providing services to government and industry."
Gupta has been a faculty member in the Mechanical Engineering Department at Maryland since 1983, following six years at the Massachusetts Institute of Technology (MIT) as a member of the research staff in the Energy Laboratory and Department of Chemical Engineering. Prior to that, he spent three years at Sheffield University as an independent research worker and research fellow in the Department of Chemical Engineering and Fuel Technology.
He has over 40 years of experience in combustion engineering, and is the author of over 550 technical papers, three books and 10 edited books. Gupta is also currently Fellow of American Institute of Aeronautics and Astronautics (AIAA), Society of Automotive Engineers (SAE) and International Society of Energy and Environment Sustainability (ISEES). Most recently, he was awarded an Honorary Doctorate from the University of Derby, received the Golden Elephant Award from Surindra Rajabhat University, Thailand and was elected to the Fellowship of the Royal Aeronautical Society (RAeS), United Kingdom.
The first Honorary Membership was awarded in 1880, the founding year of the society. According to ASME, "the roster of Honorary Members contains the names of leaders of world renown who have been selected under carefully drawn procedures rigorously maintained by the Society over the years." No more than five Honorary Members are elected in any one year.
Gupta will receive this recognition and accompanying silver medal during the Honors Assembly of the 2016 ASME Mechanical Engineering Congress & Exposition, held November 11-17 in Phoenix, Ariz.
Published June 29, 2016