Han Named Associate Editor of Microelectronics Reliability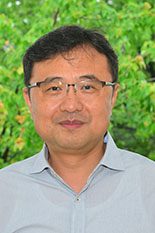 Mechanical Engineering Professor and Keystone Professor Bongtae Han was recently named an associate editor of Microelectronics Reliability. The journal publishes papers on the reliability of microelectronic devices, circuits and systems, from materials, process and manufacturing, to design, testing and operation.
Han has previously held positions as associate technical editors for both the Journal of Electronic Packaging and Experimental Mechanics.
Han joined the Department of Mechanical Engineering in 1999. He leads the Laboratory for Optomechanics and Micro/Nano Semiconductor/Photonic Systems (LOMSS). His lab researches advanced experimental and simulation techniques for photonic and electronic systems, and is a Center for Advanced Life Cycle Engineering (CALCE) research laboratory.
Han is a Fellow of the American Society of Mechanical Engineers (ASME) and the Society for Experimental Mechanics (SEM). In 2016, he received the ASME Mechanics Award in the Electronic and Photonic Packaging Division (EPPD). Han has also received numerous Best Paper Awards over the course of his career, most recently of which was during the 2015 International Conference on Electronic Packaging Technology.
Published March 27, 2018