Jared Levy Joins Mechanical Engineering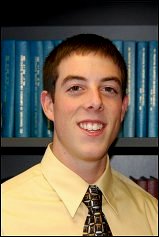 The Department of Mechanical Engineering is pleased to welcome its newest student reporter, sophomore Jared Levy. As student reporter, Jared develops general interest stories for the ME website and the semiannual METRICS newsletter based on news and special events affecting ME faculty, students and staff. Since joining ME in September 2010, Jared has contributed a slate of provocative stories and innovative new media initiatives.
A native of Huntington, New York, Jared graduated from Walt Whitman High School, where he excelled as a student and athlete. Jared recalls being named captain of Whitman's Cross Country team as one of the highlights of his high school experience, stating "My memories with that team are the best that I have from high school." While lauded for his athletic achievements, Jared's academic success was instrumental to his selection as a recipient of the Presidential Scholarship as well as his admission to the University of Maryland Honors Program. "Without the Presidential Scholarship, I would not have had the opportunity to study at the A. James Clark School of Engineering."
Jared is involved in a variety of activities and organizations at Maryland. He is a member of the National Society of Collegiate Scholars and participates in a number of intramural sports, as well as club racquetball. Jared also serves as the VP of Finance of Hagerstown Hall, where he is currently residing. When asked about his campus involvement, Jared said, "I devote most of my time to academics, but I try to take advantage of the extracurriculars that the university has to offer."
In his time away from his student reporter duties, Jared plans to focus on his studies in the ME undergraduate program, with a concentration on biomedical applications, and possibly tackling a minor in nanoscience and technology. Now in his second year with the program, Jared recalls seeking ways to become involved with ME beyond just his classes. With his appointment as ME student reporter, Jared is overwhelmingly enthusiastic about the opportunity to fulfill that interest and discover the amazing stories within ME and its community.
Published November 3, 2010