Brian Weiss Earns Best Paper Award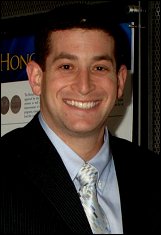 ME graduate student Brian Weiss, in conjunction with Craig I. Schlenoff from the National Institute of Standards and Technology (NIST), won the Best Paper Award at the 2010 International Test and Evaluation Symposium (ITEA) Annual Symposium. He also earned third place honors for Best Presentation for his work with ME Associate Professor
Linda Schmidt
.
Weiss, also a full-time employee at NIST, won Best Paper for his research "Performance Assessments of Two-Way, Free Form, Speech-to-Speech Translation Systems for Tactical Use," co-authored with his NIST project manager. (The paper is available here.)This publication was focused on assessing systems that would enable rapid translation from English to a foreign language and vice versa in real-world tactical situations where an interpreter is unavailable. This technology is expected to be used by the U.S. Military to facilitate communication between allied forces and the local populace, resulting in more effective and efficient coordination in tactical situations.
Weiss' second award of the symposium was his third place presentation "The Multi-Relationship Evaluation Design Framework: Producing Evaluation Blueprints to Test Emerging, Advanced, and Intelligent Technologies." (The corresponding paper is available here.) The presentation "introduces the Multi-Relationship Evaluation Design (MRED) framework whose objective is to take uncertain input data and automatically output comprehensive evaluation blueprints complete with targeted evaluation elements."
MRED is able to characterize relationships between evaluation elements and can address the uncertainties between these elements as well as the uncertainties that stem from the initial evaluation inputs. It is envisioned that this system will ultimately be applied to evaluate emerging technologies in the example evaluation design phase.
The ITEA is a not-for-profit organization who encourages the exchange of technical information in the field of testing and evaluation. Their annual Symposium is one of the events they utilize to encourage the sharing of new methods and models. ITEA's international chapters, global networking events, education programs, student scholarships, and industry awards are all used to establish connections between leaders in the testing and evaluation field, resulting in a greater exchange of information and effectiveness of product assessment techniques.
Published November 3, 2010