Live News Broadcast at Clark School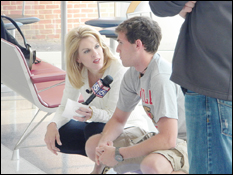 WTTG Fox 5 broadcast portions of this morning's news program live from the Kim Building rotunda, where this semester's ENES100 hovercraft competition was taking place.
The Washington, D.C., affiliate interviewed Keystone Program faculty and instructors as well as students competing in the competition.
Link to the videos above including interviews with Keystone Instructor Kevin Calabro, Associate Professor Sheryl Ehrman (chemical and biomolecular engineering) and Clark School senior Nick Orlando, a Keystone teaching fellow.
Read more about the Keystone Program and hovercraft competition in the current issue of E@M magazine.
Published May 10, 2010