Greg Jackson Promoted to Full Professor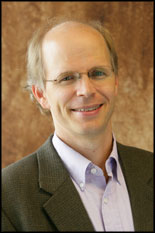 Dr.
Gregory Jackson,
has been recently promoted to Professor of Mechanical Engineering with all the privileges and responsibilities, thereof, effective July 1, 2010. "It is an honor to be a professor at an institution like Maryland," says Jackson. "The ability to work with students on research problems for which you have a deep interest, and in some cases passion, is a privilege which I do not take lightly."
Jackson's research interests lie in solid oxide fuel cells (anode materials and chemistry, hydrocarbon tolerance, system integration); PEM fuel cells (system integration with fuel reformers; CO tolerant electrocatalysts); H2 production (production from hydrocarbons, membrane separators and reactors);; combustion (high temperature radiation transport and catalytic combustions); and thermoelectric waste heat recovery.
Currently, Jackson is collaborating on a project with Ballard Power Systems, which focuses on fuel processing and system integration issues related to making low-temperature PEM fuel cells work with logistic fuels; via the development of a 5kW portable generator and studies on new materials and catalyst technology. In addition, Jackson is working on high-temperature solid-oxide fuel cells (SOFCs) in order to understand fundamental processes associated with the oxidation of carbonaceous fuels. Besides his numerous publications, Jackson has also won several awards for his research, which include: the Outstanding Paper in New Technology from the International Symposium on Combustion in 2007; the Physical Science Invention of the Year Award (with S. Zhou and B. Eichhorn) in 2006; and a National Science Foundation (NSF) CAREER Award in 2000. Jackson is a member of the American Society for Mechanical Engineers (ASME), the Electrochemical Society, the Combustion Institute, and the American Institute of Aeronautics and Astronautics (AIAA). He also serves as the Associate Editor for the Journal of Energy Resources Technology.
After receiving his Ph.D. from Cornell University in 1994, Jackson worked at Precision Combustion, Inc. in Connecticut, before joining the ME department in 1997. For the fall 2010 semester, Jackson will be teaching the graduate course, ENME633: Molecular Thermodynamics.
For more information on Dr. Jackson's research, please visit his website.
Published May 7, 2010