Mardirossian to Speak at Commencement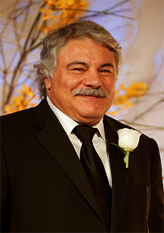 Entrepreneur Aris Mardirossian (B.S. '74 and M.S. '75, mechanical engineering) will be the Clark School's spring 2011 commencement speaker.
Mardirossian's company, Technology Patents, holds or has pending more than 50 patents. Mardirossian invented systems for everything from satellite traffic control and missile defense systems to an apparatus that disarms land mines. His past business ventures have included restaurants, convenience stores and several construction and real estate businesses.
Mardirossian supports the Clark School with gifts for scholarships including the Aris and Marianne Mardirossian Endowed Scholarship in Mechanical Engineering. He recently was honored as the Clark School's 2011 Distinguished Alumnus. He serves as trustee on the board of Suburban Hospital and the State of Maryland Department of Business and Economic Development Commission.
The Clark School commencement ceremony will take place on May 20 at 11:30 a.m. in the Comcast Center. The University commencement ceremony will take place at 10 a.m. on May 19 in the Comcast Center.
Published April 26, 2011