Mechanical Engineering Design Day Scheduled for December 4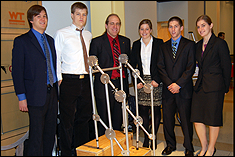 On December 4, from 11 a.m. to 2 p.m., the rotunda of the Jeong H. Kim Engineering building will be transformed into a festival of creativity where senior mechanical engineering teams will present their capstone design projects. In developing their projects, students must consider a wide range of competing factors to satisfy the customer's requirements and design a product that meets those needs while addressing a company's needs that incorporate development schedules, developing marketing strategies, controlling costs and increasing profit margins, and ensuring the product follows government regulations.

This year, Marlin Steel Wire , a custom steel product manufacturing company located in Baltimore, is this year's signature corporate sponsor. Drew Greenblatt, president of Marlin Steel Wire, has hired a number of mechanical engineering graduates and values the hands on experience Design Day provides to students. "UM Engineers are Marlin Steel's secret sauce." Greenblatt, explains, "Their innovations power our robust growth. Their concepts are so good we are making wire baskets, wire forms and sheet metal fabrications in Baltimore and shipping to 36 countries including China and Taiwan. Because of their designs we are hiring talent in the USA and growing fast."

Design Day is a highlight of the department each semester and represents the culmination of a semester-long effort to experience many aspects of the design process and demonstrate competence in the skills required to successfully design a product for manufacturing. This includes design strategies that incorporate product architecture, materials selection, manufacturing, and assembly.

Teams compete for the "top vote," where their peers, faculty, and guests select their favorite project. The winning team will receive an award, and the top three projects will have their posters displayed in the Department of Mechanical Engineering.

Learn more about Design Day by visiting the department's events page.

For more information about Marlin Steel Wire, please visit their website.
"UM Engineers are Marlin Steel's secret sauce. Their innovations power our robust growth."
Published October 18, 2012