Professor Emeritus James Dally to Receive Daniel C. Drucker Medal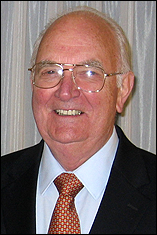 Professor Emeritus James Dally will receive the Daniel C. Drucker Medal for his contributions to mechanical engineering at the 2012 ASME International Mechanical Engineering Congress and Exposition, to be held from November 9-15 in Houston.

The Daniel C. Drucker Medal was established in 1997 to recognize contributions in applied mechanics and mechanical engineering through research, teaching, and service to community over a period of time. Dally will receive the award for his contributions to research in fracture mechanics, his academic leadership as department chair of the Department of Mechanical Engineering, and his work developing teaching materials for engineering students with College House Enterprises, LLC. His company has published over 50 engineering textbooks since its founding in 1997.

Dally has remained active with the university and engineering community after his retirement in 1997. He continues to be involved with the Keystone Program and with introductory engineering courses. He has authored three textbooks used in ENES100 Introduction to Engineering Design, ENES102 Mechanics I, and ENES 220 Mechanics II. Dally also consults on fuses and instrumentation for the Defense Threat Reduction Agency (DTRA).
Published October 18, 2012