Single-Step Soft Robotics Manufacturing: What's Next?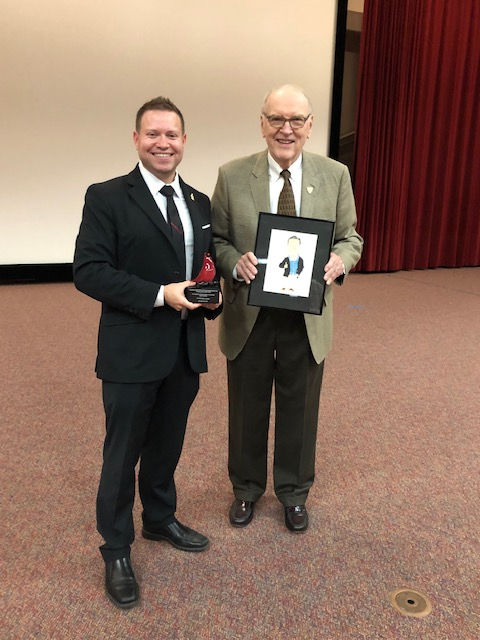 When UMD researchers led by Associate Professor Ryan D. Sochol showed they could 3D-print fully assembled soft robots in one go, the engineering world took notice. But the breakthrough represents only a first step in the field, Sochol said in a lecture given at the University of Toledo on October 28.
Sochol was the inaugural speaker of the University of Toledo's new Mechanical, Industrial and Manufacturing Engineering Distinguished Lecture Series, established in honor of one of its most renowned engineering faculty members, Distinguished University Professor Emeritus Theo Keith.
Keith, who earned his doctorate in mechanical engineering at UMD in 1971, has maintained close links with Maryland Engineering, including through a gift that established the first-ever Maryland Promise scholarship for mechanical engineering majors.
For the new lecture series, organizers found an inspiring inaugural speaker in UMD's Sochol, whose Bioinspired Advanced Manufacturing Lab's 3D printing and soft robotics breakthroughs are opening the door for transformative applications in medicine, surgery, and other fields.
In his lecture, "Games Without Frontiers: Playing Nintendo with a 3D-Printed Soft Robotic Hand is Just the Beginning," Sochol explained how his team's achievement–beating the first level of Super Mario Bros. using their fully 3D-printed soft robotic hand with integrated fluidic circuits–came about, and how they are extending this approach to new applications that promote human health and well-being.
For example, the National Institutes of Health (NIH) recently awarded Sochol and his multidisciplinary, multi-institutional team $2.7 million to develop 3D nanoprinting-enabled soft robotic neurosurgical instruments based on the strategy pioneered by Sochol and his team.
Discussing his visit to the University of Toledo, Sochol said, "it was a tremendous honor to deliver the inaugural lecture in this series established for Dr. Theo Keith, who is one of the most inspiring doctoral alumni of our department and has had such an outsized impact at the University of Toledo. Getting to meet so many members of their institution who have continued Dr. Keith's legacy was an absolute pleasure."
A member of the UMD mechanical engineering faculty since 2015, Sochol was promoted to associate professor with tenure earlier this year. He earned his doctorate at the University of California, Berkeley, and held postdoctoral positions at the Harvard-MIT Division of Health Sciences & Technology and Harvard Medical School prior to taking up his position at UMD.
Published November 21, 2022