Paying It Forward with Double the Impact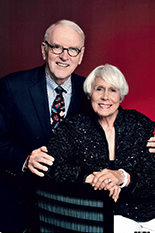 A graduate of the University of Maryland (UMD) and Distinguished University Professor Emeritus at the University of Toledo, Dr. Theo Keith (M.S. '68, Ph.D. '71) has dedicated his life to teaching, advising, mentoring, and supporting students with the determination to succeed in mechanical engineering. Dr. Keith and his wife Sandra are extremely enthused by the prospects of providing accessible learning opportunities to all students, no matter their background, in order to build a solid foundation for the next generation of engineering leaders.
Through their generous commitment to the Clark Challenge for the Maryland Promise Scholarship Program, Dr. and Mrs. Keith are supporting students financially, academically, and professionally. The Maryland Promise Program awards full-tuition scholarships to promising undergraduate students with high financial need from the state of Maryland or Washington, D.C. Students then receive continued support throughout their time at UMD and form a close community with fellow Maryland Promise Scholars. They receive academic advising, professional and leadership development training, and participate in community engagement projects. By investing in the program, Dr. and Mrs. Keith have created a life-changing opportunity for mechanical engineering students.
Dr. and Mrs. Keith's gift establishes the first Maryland Promise Program scholarship for mechanical engineering majors. The funds will be matched by the A. James & Alice B. Clark Foundation and the University of Maryland as part of the "Building Together: An Investment for Maryland" partnership that was established in 2017.
"It is our hope that this scholarship will help to provide future engineering students, who would otherwise not have the opportunity, with an outstanding engineering education."
As an engineering educator himself, Dr. Keith values the opportunities afforded to him through the education he received at the University of Maryland. While a graduate student at UMD, Dr. Keith held a position at a naval laboratory in Annapolis, MD, which during his tenure was named the Marine Engineering Laboratory (MEL) and the Naval Ship Research and Development Center (NSRDC). There, he worked on a variety of projects, including a computer simulation of the emergency de-ballasting system of a nuclear submarine. This work was part of the Submarine Safety program that was initiated after the loss of the USS Thresher, which sank while on a test dive off the Atlantic coast. Dr. Keith also worked in NSRDC's Propulsion Division performing parametric investigations on various naval surface crafts. In his time as a naval civil employee, Dr. Keith gained engineering knowledge and skills that would take him into the next stages of his career.
After graduating in 1971, Dr. Keith began his long-standing appointment as a faculty member at the University of Toledo (UT). He rose from Assistant Professor to full Professor in a 10-year span, and for eight years during this period, he served as the Mechanical Engineering Department Chair. In 1990, he was appointed one of ten University of Toledo Distinguished University Professors. Throughout his career at UT, Dr. Keith had a close working relationship with the NASA Glenn Research Center (GRC) in Cleveland ,OH. For more than 20 years, he drove to GRC one day per week to teach on-site graduate courses there; for over 40 years, he received continuous funding from GRC in support of his research and his students; and, in 2004, he was requested to serve for 2 years as the GRC Director of Research and Development.
Dr. Keith's mechanical engineering success is what inspires him to provide assistance to students who wish to follow a similar path but who might not have the monetary means to get there alone. Both Dr. and Mrs. Keith place their confidence in the University of Maryland to help those students reach their full potential despite funding challenges that might arise along the way.
Dr. and Mrs. Keith are excited for the possibilities of their contribution. "It is our hope that this scholarship will help to provide future engineering students, who would otherwise not have the opportunity, with an outstanding engineering education."
Published February 23, 2021