Ohadi Receives ASHRAE E.K. Campbell Award of Merit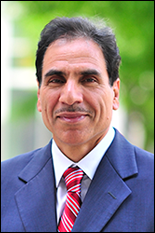 Department of Mechanical Engineering Professor Michael Ohadi recently received the American Society of Heating, Refrigerating and Air Conditioning Engineers (ASHRAE) E.K. Campbell Award of Merit. The award recognizes one ASHRAE member every year for their outstanding service and achievement in teaching, and includes a plaque and $10,000 honorarium from the Society's Life Members Club.
Ohadi currently works on two projects funded by a $5 million award from the U.S. Energy Department's Advanced Research Projects Agency-Energy (ARPA-E) program to improve power plant cooling.
Leading the Novel Polymer Composite Heat Exchanger for Dry Cooling of Power Plants project, Ohadi and his team are improving power plant cooling technologies through the development and application of new composite heat exchangers that use a low-cost, high conductivity medium encapsulated in a polymeric material that is highly durable, low cost and has a high resistance to corrosion.
On the Novel Microemulsion Absorption Systems for Supplemental Power Plant Cooling project, he is serving as a co-principal investigator with Associate Professor Bao Yang. This project aims to developan absorption cooling systems for power plants utilizing a novel microemulsion liquid absorbent.
Ohadi received his Ph.D. from the University of Minnesota in 1986, and is a founding faculty member of the University of Maryland's Center for Environmental Energy Engineering (CEEE) He is internationally recognized for his research in heat and mass transfer and smart energy systems, and he is the inventor/co-inventor of eight issued U.S. patents. In addition, he has published more than 150 refereed technical publications and has close to 20 years of industrial and academic experience in the areas of heat transfer, fluid flow, thermal energy conversion and electrohydrodynamics. Ohadi is also a member of the American Society of Mechanical Engineers (ASME) and has won numerous awards from both ASME and ASHRAE.
ASHRAE will present Ohadi with the award during their 2015 Winter Conference in Orlando, Florida on January 23, 2016.
Published August 9, 2015