Sochol Joins Department of Mechanical Engineering as Assistant Professor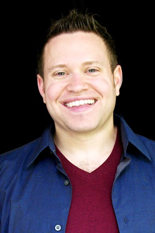 The Department of Mechanical Engineering welcomes Ryan D. Sochol as a new faculty member. Sochol comes from the Harvard-MIT Division of Health Sciences & Technology and is joining the department as an assistant professor.
His research lies at the intersection of advanced manufacturing and biology, with a focus on using micro/nanoscale 3D printing approaches to mimic the architectures, characteristics and functionalities of biological systems.
"The Clark School of Engineering's commitment to pushing the boundaries of advanced manufacturing is unparalleled," Sochol said. "Equipped with the absolute state-of-the-art in micro and nanoscale 3D printing technology—including the Nanoscribe GT with its 100 nanometer resolution and the Objet500 Connex with its multi-material capabilities—there is no better environment for solving the most pressing mechanically and physically-complex biological challenges of today. To say that I am excited to join the esteemed faculty of the University of Maryland would be a vast understatement."
Coming to UMD marks a return to Maryland for Sochol. He grew up in Baltimore County and attended Timber Grove Elementary School, Sudbrook Magnet Middle School and Beth Tfiloh Dahan Community High School. Sochol received his B.S. degree in Mechanical Engineering from Northwestern University, and both his M.S. and Ph.D. degrees in Mechanical Engineering from the University of California, Berkeley, with Doctoral Minors in Bioengineering and Public Health.
During his postdoctoral career, Sochol established the Micro Mechanical Methods for Biology (M3B) Laboratory Program within the Berkeley Sensor & Actuator Center at the University of California, Berkeley. There he advised over 80 student researchers during his time as director. Sochol also served as a Visiting Postdoctoral Fellow at the University of Tokyo in Japan prior to his transition to Harvard-MIT.
For more information on Assistant Professor Ryan D. Sochol, please visit his faculty webpage.
Published July 2, 2015