Severinsky to Receive Prestigious ASME Patent Award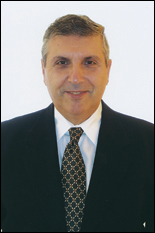 Alex Severinsky
, ME visiting professor and inventor of the advanced hybrid technology used in the Toyota Prius and other vehicles, has just been announced the winner of the 2009 Thomas A. Edison Patent Award by the
American Society of Mechanical Engineers (ASME)
.
The Thomas A. Edison Patent Award was established in 1997 and is bestowed annually by the Committee on Honors. The award recognizes the creativity of a patented device or process that has the potential of significantly enhancing some aspect of mechanical engineering.
Severinsky will receive the award for his patent "Hybrid Electric Vehicle." This patent transformed the auto industry by presenting improved hybrid engine technology (internal combustion and electric motor) which results in a cost efficient vehicle that suffers no performance disadvantage compared to conventional vehicles. As one of the most prestigious honors that ASME presents, Severinsky expressed his delight to have been selected to receive such an honorable award.
In addition to a plaque and monetary prize, all recipients of the Thomas A. Edison Patent Award sit on the ASME Board for Research and Technology Development. Severinsky will receive the award at the upcoming 2009 International Mechanical Engineering Congress and Exposition this fall.
In 2008, Severinsky was inducted into the Clark School's Innovation Hall of Fame and he also delivered the Commencement speech at the Clark School's graduation ceremony on May 22, 2009. Currently, Dr. Severinsky is the CEO of Fuelcor LLC, an intellectual property development and management company based in Bethesda, Md. He holds numerous patents in the United States with additional patent filings worldwide.
Published June 16, 2009