Profs. Dasgupta, McCluskey and Students Present at ITherm 2018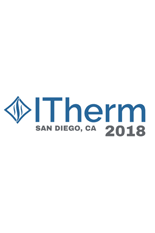 This year, Professor Dasgupta and two of his current students, Abhishek Nitin Deshpande and Hao Huang, and Professor McCluskey traveled to San Diego to attend the Intersociety Conference on Thermal and Thermomechanical Phenomena in Electronic Systems (ITherm), which was sponsored by the
A. James Clark School of Engineering
and the
CALCE
and
S2TS
labs at the University of Maryland.
During the event, Prof. Dasgupta's students presented papers and posters. Hao Huang's paper, Mechanical Response of Assemblies Bonded with Double-Layered Pressure-Sensitive Adhesives (PSAs), was a feature presentation, and Abhishek Nitin Deshpande presented A Joint-Scale Test Specimen for Tensile Properties of Solder Alloys—both students received travel grants from the Conference.
Profs. Dasgupta and McCluskey attended the Heterogeneous Integration/3D Chip Cooling session, as task force members, which explored advancements in 3D packaging and heterogeneous integration (HI) for silicon CMOS and RF devices and helped co-author the HI roadmap.
Also at the conference, Prof. McCluskey led the course Integrated Thermal Packaging and Reliability of Power Electronics. This course provided a review of active heat transfer techniques and prognostic health management (PHM) approaches to assess and ensure reliability. Following this review, Prof. McCluskey presented the latest developments in organic and flexible materials, packaging, assembly, and thermal management of power electronic modules, MEMS, and systems along with modeling and testing techniques. The course emphasized thermal packaging techniques capable of addressing performance limits and reliability concerns associated with increased power levels and power density in power electronic components.
Companies including Dupont, IBM, Intel, Huawei, Laird, and many others attended the conference.
Published June 5, 2018