Schmidt Promoted to Professor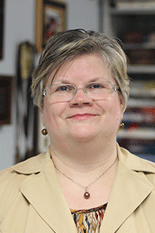 Department of Mechanical Engineering Associate Professor Linda Schmidt has been promoted to the rank of Professor by University of Maryland (UMD) President Wallace Loh.
Schmidt joined the department in 1995, shortly after receiving her Ph.D. from Carnegie Mellon University. Throughout her time at Maryland, she has taught multiple courses in system and product design theory and methodology, and has been an integral part of the departments' capstone design curriculum. She has served as director of the Design ME Suite since 1999, which today includes the Create & Test Lab, Modeling Lab and Ideation Lab.
Schmidt has authored or co-authored four books, including two editions of Engineering Design, considered a major design text publication of McGraw-Hill Higher Education.
She has received numerous honors and recognitions over the course of her career, such as the "Outstanding Gemstone Mentor Award" from the Gemstone Program at Maryland and the American Society for Engineering Education's (ASEE) "Fred Merryfield Design Award."
She is a fellow of the American Society of Mechanical Engineers (ASME), and in 2014, she was one of 77 educators invited to participate in the National Academy of Engineering (NAE) sixth Frontiers of Engineering Education (FOEE) Symposium.
"Linda is a highly regarded faculty member, who is unique in her pursuit of design theory research in the Department," said Department Chair and Minta Martin Professor Balakumar Balachandran. "Her accomplishments have already had a noticeable impact on the engineering design process and have placed her on a path for continued international leadership in design education and design research."
Schmidt's new faculty position will be effective starting July 1, 2016.
Published May 24, 2016