Zachariah Receives 2011 Outstanding Research Award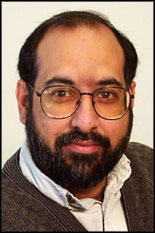 The Department of Mechanical Engineering is pleased to announce that Professor
Michael Zachariah
has received the 2011 A. James Clark School of Engineering Faculty Outstanding Research Award. Zachariah received the award in recognition of his innovative development of new characterization tools for studying nanoparticles and his efforts to use those tools to further the current body of knowledge on nanoparticle properties as they relate to biomedical applications and energy-related materials. Zachariah was selected for the award based on the nominations of a committee of his peers as well as the input of a number of distinguished independent referees. The award was presented to Zachariah in a ceremony on September 27, 2011. The award includes a plaque, a monetary award, and a research augmentation award for three years to further Zachariah's research program within the Clark School.
Zachariah is a Professor of Mechanical Engineering and Chemistry and is the Director of the Clark School's Center for NanoEnergetics Research and the Center for Nano Manufacturing and Metrology. He is also coordinator of the University of Maryland/NIST Co-Laboratory on NanoManufacturing and Metrology. Zachariah is a member of the Board of Directors at the Energetics Technology Center (ETC), an independent, nonprofit, professional services organization that conducts research and development (R&D), test and evaluation (T&E), operations and maintenance (O&M) and policy development for the government, academia, and industry. He has held a number of editorial and advisory board positions as well, serving as associate editor of the Journal of Nanoparticle Research and serving on the editorial advisory boards of Combustion Theory and Modeling, The International Journal of Chemical Kinetics (1998-2002) and Aerosol Science and Technology (1996-2005). Prior to joining the ME faculty, Zachariah was a Staff Scientist and Group Leader at the National Institute of Standards and Technology (NIST).
Zachariah earned his B.S. in Biochemistry, M.S. in Chemical Engineering, and Ph.D. in Chemical Engineering from the University of California, Los Angeles. His research interests include nanoparticle science, manufacturing and measurements, microcombustion, energetic materials and reacting flows (combustion and thermal CVD processes), fundamentals of gas-phase chemical kinetics (measurement and theory), ab-initio computational chemistry and classical molecular dynamics, and numerical simulation of reacting flows with complex chemistry molecular-beam and single particle mass spectrometry. He has published over 200 articles on his research and has been awarded six patents since 1999.
For more information on Professor Zachariah, please visit his faculty page.
Published September 26, 2011