Alumnus Steven DeCaluwe Joins Mechanical Engineering Faculty at Colorado School of Mines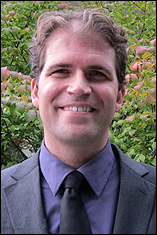 Mechanical Engineering alumnus Steven DeCaluwe (Ph.D., '09) has joined the mechanical engineering faculty as assistant professor at the Colorado School of Mines in Golden, Colorado. He joined the department after completing a National Research Council post-doctoral fellowship at the National Institute of Standards and Technology (NIST).

DeCaluwe was advised by Professor Gregory Jackson. His doctoral research concentrated on using cerium oxide as a catalyst in solid oxide fuel cells with both experimental work and mathematical modeling. DeCaluwe's work at the Colorado School of Mines will focus on interfacial studies of electrochemical energy systems, particularly using in situ measurements to validate and assist in scale-up of atomistic models. Before he began his studies in the department, DeCaluwe was an elementary school teacher.

The Department of Mechanical Engineering at the Colorado School of Mines is headed by another mechanical engineering alumnus, Associate Professor John Berger (B.S. '84, Ph.D. '90).
Published October 8, 2012