Bar-Cohen Featured in Applied Mechanics Reviews Podcast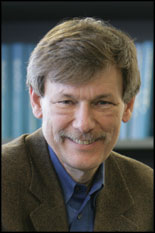 Department of Mechanical Engineering Distinguished University Professor Avram Bar-Cohen was featured in an Applied Mechanics Reviews (AMR) three-part podcast on January 31, 2014. The podcast is part of a series created by the American Society of Mechanical Engineers (ASME) and hosted by Harry Dankowicz, a Professor of Mechanical Science and Engineering at the University of Illinois at Urbana-Champaign.
Bar-Cohen discussed his reflections on research in thermal management and miniaturization, his career of service to the applied mechanics community, the needs for flexible funding and training mechanisms and the Brooklyn soccer leagues.
Bar-Cohen received his Ph.D. from Massachusetts Institute of Technology in 1971, and serves as a professor at the University of Maryland and is a member of the Institute of Electrical and Electronics Engineers (IEEE) and ASME. He is a recognized leader in the development and application of thermal science and engineering to microelectronic, radio frequency (RF) and optoelectronic systems. His research and contributions have helped develop high-reliability consumer electronics, high-performance computing platforms and advanced phased array microwave communication and radar systems. Bar-Cohen's work in the area of immersion cooling of RF and logic components—in addition to air-cooled card cages and heat sinks—have helped lay the scientific foundation for the thermal management of today's micro- and nanoelectronic components and systems.
He received the 75th Anniversary Medal of ASME's Heat Transfer Division, in recognition of his service and contributions, and the 2014 IEEE Components, Packaging and Manufacturing Technology (CPMT) Award.
Founded in 1880 as the American Society of Mechanical Engineers, ASME is the premier professional membership organization for more than 127,000 mechanical engineers and associated members worldwide. According to ASME, AMR "is an international review journal that serves as a premier venue for dissemination of material across all sub-disciplines of applied mechanics and engineering science, including fluid and solid mechanics, heat transfer, dynamics and vibration, and applications. AMR provides an archival repository for state-of-the-art and retrospective survey articles and reviews of research areas and curricular developments across all sub-disciplines of applied mechanics."
For more information on Bar-Cohen or ASME and AMR Podcast, please visit their websites.
Published May 29, 2014