Bar-Cohen Named President of IEEE Electronic Packaging Society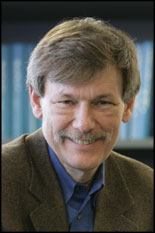 Department of Mechanical Engineering Distinguished University Professor Avram Bar-Cohen has been elected as the inaugural president of the newly renamed Institute of Electrical and Electronics Engineers (IEEE) Electronic Packaging Society (EPS). Previously known as the IEEE Components, Packaging and Manufacturing Technology (CPMT) Society, this change in name marks a shift by the society to better represent expanding interests in the fields of microsystem packaging and integration.
Bar-Cohen's election comes at a time when the electronics industry is once again experiencing tremendous expansion and revolutionary change, much of it driven by packaging innovations, including 2.5D and 3D stacking, heterogeneous integration and embedded cooling.
Bolstered by the Society's name change, Bar-Cohen explained he is planning to "work with the EPS Board of Governors and membership to: "brand" Packaging and Interconnection across all scales and applications, drive industry appreciation for the strategic value of packaging, and gain further recognition for EPS as a primary source of packaging S&T expertise."
Bar-Cohen has longstanding involvement with IEEE EPS. He has previously served on the Society's Board of Governors and was Editor-in-Chief of the Society's Transactions from 2006-2011. In 2014, Bar-Cohen was honored with the Society's prestigious IEEE Field Award.
Bar-Cohen is currently on leave from the Department while he serves as Principal Engineering Fellow at Raytheon – Space and Airborne Systems. He still advises several graduate students at Maryland. He is an internationally recognized leader in thermal science and technology, Life Fellow of IEEE, and an honorary member of ASME. His current R&D efforts address on-chip thermoelectric and two-phase microchannel coolers for high heat flux electronic components, thermal control of directed energy systems and the architecture and system engineering of wireless power beaming. He served as Chair of the Department of Mechanical Engineering from 2002-2010.
Other Mechanical Engineering faculty members involved with EPS include Professor Michael Ohadi, General Chair of the 2017 IEEE Intersociety Conference on Thermal and Thermomechanical Phenomena in Electronic Systems (ITHERM), Professor Patrick McCluskey, Chair of the Power Electronics Committee and Professor Michael Pecht, the 2016 recipient of the EPS Field Award.
Published January 3, 2018