First UMD Engineering Course in Social Entrepreneurship Will Help Transform Local Elementary School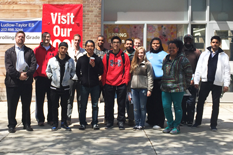 A University of Maryland (UMD) A. James Clark School of Engineering class has awarded FRESHFARM Markets a $10,000 grant for their FoodPrints Program as part of a new course piloted this semester, Engineering for Social Change.
Part of the Department of Mechanical Engineering, the class was established to introduce young engineers to the ideas of social change and social entrepreneurship through the intersection of concepts from both engineering and philanthropy.
"We are facing growing social and environmental challenges where the solutions are not always profitable financially but have significant social benefit," said course creator and Professor Emeritus of Mechanical Engineering Davinder Anand. "We must create an environment where engineers have not only a social conscience, but also the skills and knowledge to build and work with organizations that are philanthropic or nonprofit."
While other universities have focused on public policy and developmental engineering to address issues of support in developing or economically challenged areas, Maryland is leading the way in social engineering and social entrepreneurship by infusing the ideas and processes of philanthropy into its engineering curriculum.
"This course provides an educational experience that connects engineering, philanthropy and social change, and gives students a firsthand look at how they can make a very real impact in their own local community," said Anand. "Students also have the opportunity to demonstrate thought leadership and gain an understanding of how individual's values and backgrounds influence the decision making process."
Throughout the course, students learned from both engineers and leaders in nonprofit organizations. In addition, the class culminated in awarding one $10,000 grant to a nonprofit organization of their choosing.
FRESHFARM Markets, the inaugural recipient of an Engineering for Social Change Grant, will use the award for their FoodPrints program, an educational program that integrates gardening, cooking and nutrition education into the curriculum at five DC Public Schools (DCPS). FRESHFARM Markets will use the money towards the installation of a garden and greenspace at the newest school enrolled in their program, Ludlow-Taylor Elementary School.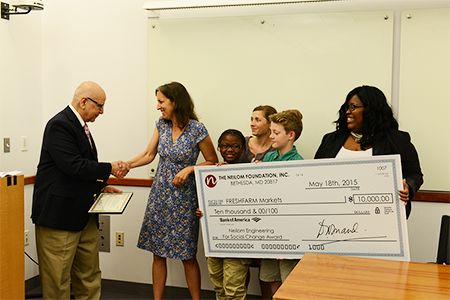 (Course founder Professor Emeritus Davinder Anand presents inaugural Engineering  for Social Change grant to FRESHFARM Markets represented by Jennifer Mampara,  FRESHFARM Market's FoodPrints Program Coordinator (left) and Ludlow-Taylor Elementary  School Principle, Debra Bell (right) and students. Funds provided for by  the Neilom Foundation.)
"The UMD grant will cover almost a 100% of the garden area construction and installation," said Jessica Hulse Dillon, FRESHFARM Markets' grant program manager. "The students will get a massive transformation of their asphalt playgrounds into garden and beautiful green space they can learn from and run around in."


Students worked together as a group—through open discussion and debate—to decide not only what kind of non-profit they would help, but what the selection process would look like and facilitate it.
"The students are really able to take ownership [of the process]," said Jennifer Littlefield, Director of the College Park Scholars Public Leadership program and Associate Director of the Center for Philanthropy and Nonprofit Leadership in the School of Public Policy, who has helped teach the new course in conjunction with engineering faculty. "There are a lot of leadership skills that the students have the opportunity to learn. They learn good group decision making models, how to compromise, how to both pitch and support ideas and more."
After soliciting proposals, students interviewed potential nonprofits and conducted site visits with the finalists to see for themselves how the each nonprofit would use the grant.
"Site visits gave us the opportunity to see firsthand what the impact would be in the local community," said rising senior Jazmyne Claggett, who grew up in D.C. and Prince George's County. "[With FRESHFARM at Ludlow-Taylor] we would be able to have an impact on young children's' lives and could see how that could be grown and fostered in their own families."
In addition to the class-awarded $10,000 grant, students had the opportunity to compete for a $1,000 grant of their own through the class' Virtual Nonprofit Challenge. Course Manager Dylan Hazelwood notes, "We designed the Virtual Nonprofit Challenge to allow students to utilize their engineering, creativity, leadership and entrepreneurial skills to engage in developing a nonprofit in an area they felt passionately about." The winning team could then use the grant to seed the start of an organization of their own.
Claggett and her teammates Brent Bian, William Sama and Mulindi Johnson won the student challenge with their proposal for Inspyre, a student led initiative to provide STEM education activities, outreach and support to K-12 students.
Having benefited from a similar program as a child, Claggett is dedicated to helping other young students fulfill their STEM goals. The first woman in her family to achieve a college education, Claggett said, "The impact that a nonprofit program can have, is very keen to me. I was that child, and I have a passion for STEM education because of how it changed my life."
During her site visit at Ludlow-Taylor, Claggett met students who reminded her of her own childhood and is excited by the prospect of paying forward to others through the kinds of programs that inspired her.
Through the philanthropic education of future engineers, the future for students at Ludlow-Taylor is now a little brighter, and a lot greener.
"I think it is a fantastic intersection," Dillon added. "Engineers often get categorized into math and science, but this is a great way to show another side of engineering, and to show engineers another avenue of applicability for their skills."
The Neilom Foundation, a non-profit established by Anand, and the Center for Engineering Concepts Development (CECD) provided this semester's grant funding, and conducted the class in partnership with UMD's Center for Philanthropy and Non-Profit Leadership in the School of Public Policy.
Published May 18, 2015