ASME Presents Professor Baz with Prestigious Prize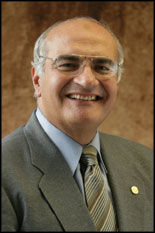 "It is an OUTSTANDING award as it is given to me by my peers who work in the field...."
Amr M. Baz
, Professor of Mechanical Engineering and Director of the Smart Materials & Structures Research Center, has received the
American Society of Mechanical Engineers (ASME)
Adaptive Structures and Material Systems Prize.
According to the ASME website, the Aerospace Division presents the Adaptive Structures & Material Systems Prize to a recipient who has, "made significant contributions to the sciences and technologies associated with adaptive structures and/or materials systems." Baz received the award in May during the 17th AIAA/ASME/AHS Adaptive Structures Conference in Palm Springs, CA. The Adaptive Structures Conference, sponsored by American Institute of Aeronautics and Astronautics (AIAA), ASME, and American Helicopter Society (AHS), was held in conjunction with the 50th Structures, Structural Dynamics, and Materials Conference. The Adaptive Structures Conference is the chief conference focused on the advancement of adaptive structures technology and its application to aerospace systems. This conference brings together basic and applied researchers from diverse disciplines.
In conjunction with his contributions to the fields of adaptive structures and material systems, Baz received this prestigious award for his extensive research in the areas of smart structures and materials, active and passive vibration and noise control, and virtual reality simulation of smart structures. During the last 30 years, Baz has coordinated his research efforts with many distinguished universities across the country; as well as those in Egypt, Saudi Arabia, and Italy.
"It is an OUTSTANDING award as it is given to me by my peers who work in the field of adaptive structures and material systems," says Baz. "It indicates their recognition and appreciation for my work in this area over the past 30 years. This life-time achievement award crowns my work and the work of all colleagues and graduate students who have been involved and enriched my research activities."
Recently, Baz has been collaborating with the Department of Fire Protection Engineering and the Maryland Fire and Rescue Institute (MFRI). Together, they have developed a new class of a wireless Heads Up Display (HUD) to provide firefighters with continuous monitoring of their body and gear temperatures.
Professor Baz received his Ph.D. from the University of Wisconsin, Madison. He is an ASME Fellow and a member of many other distinguished professional and scientific societies and has authored numerous publications. Baz has been with the Department of Mechanical Engineering since July 1997 and has taught various graduate-level courses.
--Lauren Frye '10, Mechanical Engineering Student Reporter
Published June 9, 2009