Riaz Promoted to Associate Professor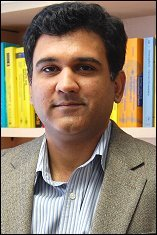 Department of Mechanical Engineering Assistant Professor Amir Riaz has been promoted to the position of Associate Professor.
Riaz joined the department in 2008 as a research assistant professor and became a tenure-track Assistant Professor in 2010. His research interests lie in the area of multiphase flow deals with the theoretical perturbation analysis of macroscopic interfacial instability, the averaging of porous media flows and the development of high accuracy numerical methods for multiphase flow appropriate for the laboratory and the field scales.
His research is widely used by the CO2 sequestration community to obtain First-order estimates of the capacity of actual aquifers and is also employed frequently to calibrate field scale as well as research based numerical simulators for the purpose of resolving the fundamental length and time scales of the flow.
The focus of his current work is on the development of multiphase flow solvers with phase change and geochemical capability and perturbation methods for investigating flow instability in heterogeneous aquifers under the influence of geochemical effects.
He has published his research in the fields of geophysics, computational physics, and fluid mechanics. Post-doctoral researchers from his group have been hired in academic tenure-track roles in both Mechanical Engineering and Mathematical Sciences.
Riaz received his Ph.D. from the University of California, Santa Barbara in 2003, and then completed his post-doctoral work at Stanford. He has received grants from both the Department of Energy (DOE) and the Department of Defense (DOD) Office of Naval Research (ONR).
Riaz's new faculty position will be effective starting August 23, 2016.
Published May 20, 2016