ME Alumni Awarded Clark School Glenn L. Martin Medal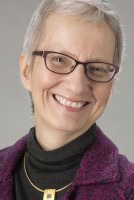 Department of Mechanical Engineering alumna Nancy Margolis (M.S. '80) has been named a 2017 recipient of the A. James Clark School of Engineering Glenn L. Martin Medal. This award, given once a year, honors individuals who have made a contribution to the mission and ideals of the Clark School.
Margolis served as President of Energetics Incorporated in Columbia, Md. from 2010 until her retirement in the summer of 2017. During a 33-year long career at Energetics, Margolis supported clients at the U.S. Department of Energy (DOE) and its national laboratories on R&D programs to improve the energy efficiency of U.S. manufacturing. Before joining Energetics in 1984, she worked at ARINC Research Corporation and Bethlehem Steel Corporation. In addition to her M.S. in Mechanical Engineering, she holds a B.A. in Chemistry from Johns Hopkins University.
Margolis was recognized by the U.S. DOE for her contributions to developing "Visions and Technology Roadmaps for U.S. Industries" and was also included by DOE on its "Steel Industry of the Future Wall of Fame." She is a member of the American Society of Mechanical Engineers (ASME).
Margolis is also active here on campus. She currently serves as Chair of the Mechanical Engineering Visiting Committee. Margolis enjoys mentoring early- and mid-career women engineers.
Criteria for the Glenn L. Martin Medal include "truly exceptional service to their community, the Clark School, the profession, and/or the public; enhanced the student experience, research scholarship, academic excellence, technology commercialization, national and international reputation and impact of the Clark School; or managed or directed an organization that has made noteworthy national or international contributions in design, construction, production, or service delivery through the application of complex engineering principles."
Margolis is the first mechanical engineering alumni recipient of the Glenn L. Martin Medal. She was presented with this honor at the 2017 Annual Recognition Dinner Celebrating Philanthropy, Service and Leadership held November 10th in A. James Clark Hall.
Published November 13, 2017