ME Grads Enjoy Advantages of Alumni Membership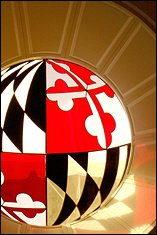 As the fifth anniversary of the
Samuel Riggs IV Alumni Center
approaches, the University of Maryland Alumni Association celebrates the importance of UMD alumni to the future of the University. With over 29,000 Clark School graduates, engineering alumni are integral to the continued success of the Association.
As a significant community within the UMD Alumni Association, the Engineering Alumni Chapter is poised to assist the Alumni Association in its mission to "support and promote the university in its pursuits of excellence in teaching, research and public service and to foster a spirit of loyalty, involvement and life-long commitment to the university by its alumni," while reaping a plethora of benefits. Clark School alumni Dave Pelgrim (ME '91) has directly benefited from his Alumni Association membership, stating, "I enjoy maintaining my ties with the University via the Alumni Association, participating in Alumni Association events and staying abreast of the latest developments…at the University and the Clark School of Engineering."
Post-graduation, all engineering graduates receive a complimentary, one-year membership as a gift from the Association. Thereafter, continued membership is only $55 per year. As a member, graduates receive many perks, including access to university resources and special events. In the past year, the Clark School has hosted a number of networking events—including dinners, seminars, lectures and receptions—for engineering alumni. The Engineering Alumni Chapter hosted a number of well-received events, from baseball games to barbecues. In September, the Engineering Alumni Chapter will host the 7th Annual Clark School of Engineering Alumni Golf Tournament, which invites alumni to return to campus and reconnect with the UMD community.
Clark School Director of Alumni Relations, Josey Simpson ('84) believes strongly in the value of joining the Alumni Association after graduation, remarking, "It is very important for alumni to stay connected with their alma mater, and becoming a member of the Alumni Association is just the first step." Simpson adds, "Alumni should give back to the University of Maryland and share their time, talent, and treasure with the future generation of Terps. Many, many Terps paved the way for us when we were students, and now it's time for us to give back in any way we can to our current students." In order to fulfill this mission, the Engineering Alumni Chapter has established several service committees for alumni to assist the Clark School:
• Student Outreach Committee, which mentors and recruits students;
• Alumni Outreach Committee, which assists in building the alumni network; and
• Communications and Fundraising Committee, which helps to build membership and develop new approaches to increasing the Chapter's funding and visibility.
"Giving back to organizations that serve the common good is a life goal, [and] the opportunity to support the Clark School in its mission is extremely gratifying," says Pelgrim.
For more information about the Engineering Alumni Chapter, please visit their website, or contact Josey Simpson at josey@umd.edu.
Published August 12, 2010