Mechanical Engineering Alumnus to Join Faculty at WPI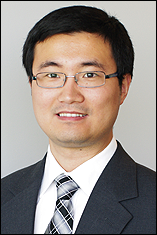 Yuxiang Liu, Ph.D. '11, accepted a position as Assistant Professor in Mechanical Engineering at the Worcester Polytechnic Institute in Worchester, Massachusetts. He will begin his professorship this fall.
The training and education Liu received in the department inspired him to pursue a career in education. "The influence of my Ph.D. advisor, Miao Yu, is one of the main reasons that I decided to pursue my career in academia," Liu said.

Liu's main research objective at WPI will be to develop novel, compact tools based on the interactions between optics and mechanics, and to implement these tools for optical interrogation and control of micro- to nano –scale dynamics in biomedical applications. One of Liu's proposed research projects is to use fiber optical tweezers and cavity optomechanics to study the relationship between cell mechanical properties and certain diseases, such as cancer.

WPI was founded in 1865 and offers over 50 undergraduate and graduate degree programs in a variety of fields.
Published May 6, 2013