Mechanical Engineering Graduate Students Win Travel Grants to 2012 ASME International Mechanical Engineering Conference and Exposition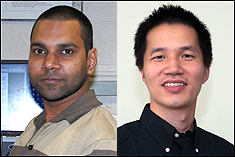 Graduate students Sandip Haldar and Haijun Liu won travel grants to attend the 2012 ASME International Mechanical Engineering Congress and Exposition to be held from November 9-15 in Houston. Both Haldar and Liu will receive $750 to cover travel expenses.

Haldar's research paper, "Enhanced Damage Resistance in Sandwich Composite Structures through Fiber Reinforcement of Cores," examines the mechanical behavior of sandwich composite material to develop and characterize these advanced structures. Haldar's advisor, Professor Hugh Buck, helped with the research Haldar performed for the paper in the Multi-scale Measurements Laboratory.

Liu's poster presentation, "Mimicking how the Fly Hears: Fly-Ear Inspired MEMS Acoustic Sensors," is derived from five years of research in MEMS acoustic sensors for sound source localization based on a fly's hearing. This research can lead to a new approach to tackle long-standing size limits in conventional sound localization systems. Liu's advisor, Associate Professor Miao Yu challenged Liu "to be a better researcher and person." Yu also helped Liu modify the abstract for a poster presentation and making sure Liu's application package was its best before he submitted it.

The conference provides a great platform to present research since professionals from industry, academia, and research labs will attend. Both Haldar and Liu will compete with other students to for top prizes at the conference.
Published October 8, 2012