Ohadi Recognized as Leading Expert in Heat Exchangers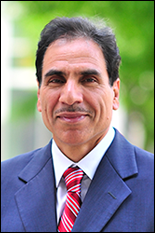 Department of Mechanical Engineering professor Michael Ohadi was recently recognized as a world leading expert in heat exchangers by the European Process Intensification Center (EUROPIC). With this recognition, Ohadi was also offered a formal accreditation of expert membership in EUROPIC.
Ohadi received his Ph.D. from the University of Minnesota in 1986. Ohadi's area of research focuses on heat and mass transfer at the meso, micro and nano-scales with applications to thermal/fluid system miniaturization, smart heat exchangers, electronic cooling and innovative energy systems. Ohadi is founding faculty member of the Center for Environmental Energy Engineering (CEEE), founder of the Advanced Heat Exchangers and Electronics Cooling Consortium, and currently leads a Defense Advanced Research Projects Agency (DARPA) project to develop "embedded cooling" technology for compound semiconductor microchips and high power electronic systems. He is a fellow member of both the American Society of Mechanical Engineers (ASME) and American Society of Heating, Refrigerating and Air Conditioning Engineers (ASHRAE), and has won numerous awards from both societies.
With headquarters in Delft, Holland, in addition to offices in Germany and France, EUROPIC is a world leader in technologically-driven studies in Process Intensification. According to EUROPIC's website, Process Intensification provides radically innovative principles in process and equipment design. It significantly benefits process and chain efficiency, capital and operating expenses, quality, wastes, process safety and much more.
For more information of Dr. Ohadi, please visit his faculty page.
For more information on EUROPIC, visit their website.
Published December 9, 2013