UMD Team Receives ASME AESD 2013 Best Paper Award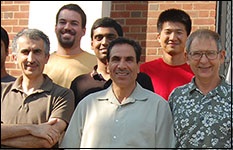 A UMD team led by Department of Mechanical Engineering Professor Michael Ohadi won the 2013 American Society of Mechanical Engineers (ASME) Advanced Energy Systems Division (AESD) Best Paper Award for their paper titled, "ESFuelCell2013-18394 Experimental Investigation of Advanced Microscale Reactors For Enhanced Carbon Capture And Natural Gas Sweetening Applications."

The team included Ph.D. graduate student Harish Ganapathy, Assistant Research Scientist Amir Shooshtari, Senior Research Scientist and Associate Research Professor Serguei Dessiatoun and Dr. Mohammed Alshehhi, an assistant professor in the mechanical engineering department at the Petroleum Institute in Abu Dhabi, United Arab Emirates. The team's paper was based on research Ganapathy performed as part of his Ph.D. thesis.

"Our pioneering work in mass transfer application of micro surfaces and fluidics has received much attention recently, evidenced from the number of citations received for our publications in this area," said Ohadi. "Development of micro energy and environmental systems, including micro gas separation systems (micro GSS) and micro gas-to-liquid systems (Micro GTLs) are among the application areas of this research. We are delighted to receive this recognition from Advanced Energy Systems at ASME, which is a most suiting division to recognize this work."

Ganapathy successfully completed his Ph.D., graduating in May 2014, and he will be working for Intel.
Published August 12, 2014