Pines Elected Fellow of ASME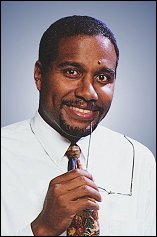 Clark School Dean Darryll Pines was recently elected as a fellow of the American Society of Mechanical Engineers (ASME). Inderjit Chopra, the director of the Alfred Gessow Rotorcraft Center, nominated Pines to join the three percent of ASME members who are elevated to the grade of Fellow.
ASME recognized Pines's contributions in smart structures, navigation and control research, technical program management and academic vision and leadership. ASME also recognized him for his two years pioneering unmanned aerial vehicles and navigation programs at DARPA and for the two years he served as chair of the Clark School's Department of Aerospace Engineering.
Pines became dean of the Clark School on January 5, 2009. He came to the University of Maryland in 1995 as an assistant professor in the Clark School and became chair of the Department of Aerospace Engineering in 2006.
Published November 9, 2009