Wang Receives ASME Award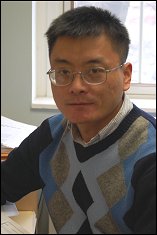 Post-doctoral researcher Peng Wang (Ph.D. '07, ME) has recently been acknowledged as the 2009 Outstanding Reviewer for his work on the
Journal of Heat Transfer
, published by the
American Society of Mechanical Engineers
(ASME). The honor is bestowed upon Wang by the Heat Transfer Division of ASME and is accompanied by a Certificate of Appreciation. Wang received the award during the 2009 International Mechanical Engineering Congress & Exposition conference held in Florida this past November and was cited in the December issue of the ASME
Journal of Heat Transfer
.
The Outstanding Reviewer tribute honors those reviewers who have surpassed expectations by offering reviews that "delineate [the] strengths and weaknesses of a manuscript and provide a firm basis for acceptance or rejection." The award was established in order to enhance the recognition of those who provide reviews meeting these qualifications.
Wang is currently researching electronic cooling at the TherPES (Thermal Management of Micro/Nano Photonic and Electronic Systems) laboratory, which is managed by his Ph.D. advisor, Dr. Avram Bar-Cohen. Some of his current projects include research on solid-state cooling and two-phase cooling for high powered electronic applications, funded by the Toyota R&D Center and the U.S. Office of Naval Research.
When asked about the award, Wang says, "I got a great Ph.D.-level education and training from the ME/TherPES Lab at the University of Maryland and look forward to other awards for our ongoing research on electronics cooling."
Published January 13, 2010