ASME Welcomes Shapour Azarm as Faculty Advisor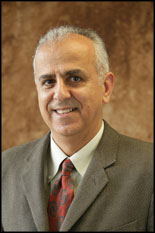 The University of Maryland Chapter of the American Society of Mechanical Engineers (ASME) welcomes ME Professor
Shapour Azarm
as the new faculty advisor. Azarm has been involved with ASME for many years and was the optimal candidate for the position. In 2004, Azarm became a Fellow of ASME, an achievement recognizing his significant engineering accomplishments and contributions to the engineering profession. In 2007, he was the recipient of ASME's Design Automation Award.
ASME is a professional organization that helps the global engineering community to develop solutions to real world problems. The society was founded in 1880 and has a rich history of endorsing the education and advancement of technical knowledge and skills. ASME is looking forward to a year filled with student design competitions such as the Vehicle Powered Vehicle Challenge, where ASME teams engineer and build efficient land vehicles that run on human power; and the ASME Student Section Competition, which recognizes student divisions that show outstanding achievement. UMD ASME is looking forward to participating in many successful events with Azarm as the new faculty advisor.
UMD ASME invites all students who are interested in joining Maryland's chapter to do so. To learn more about becoming a member, visit the ASME Lounge in 1107 Glenn Martin Hall, send an email to asme.umdchapter@gmail.com, or visit the ASME@UMD webpage.
Prof. Azarm obtained his Ph.D. in Mechanical Engineering from the University of Michigan, Ann Arbor. His research includes work in the fields of design optimization, approximation assisted optimization, multi-attribute decision analysis for design selection, and integration of engineering design and marketing. He has had numerous works published this year, including contributions to the Journal of Mechanical Design and HVAC&R Research.
To read more about Professor Azarm and his research, please visit his faculty profile.
Published November 17, 2010