Preeti Chauhan Wins Best Student Paper Award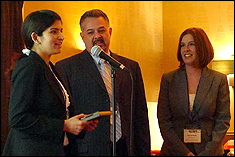 Preeti Chauhan, a Ph.D. candidate in Mechanical Engineering, won the Best Student Paper Award at the 2012 Society for Mechanical Failures Prevention Technology (MFPT) Prognostics and Health Management Solutions Conference in Dayton, OH, for her paper "Canary Approach for Monitoring BGA Interconnect Reliability under Temperature Cycling" that was written with co-authors Dr. Michael Osterman and Dr. Michael Pecht. 
The paper presented the canary approach to predict the failure of electronics under temperature cycle loading.  In the canary approach, a component or circuit is created which will fail by the same mechanism as the target electronic device, but faster. That canary component is then incorporated into the electronic device, so that when the canary fails, it provides advance warning of the device failure, allowing time for corrective action to be taken.  The paper extended the use of a canary device for the health monitoring of ball grid arrays.
Chauhan is a Ph.D. candidate expected to graduate in the Fall of 2012.  In addition to this award, she has also been given the Goldhaber travel award from the UMD Graduate School and selected to participate in the 2012 SEM student paper competition in Costa Mesa, CA.
Published May 9, 2012