CALCE Receives 2009 Systems Engineering Excellence Group Award from NDIA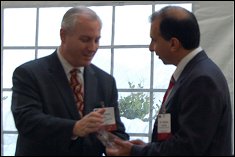 On October 28, the
Center for Advanced Life Cycle Engineering (CALCE)
received the 2009 Systems Engineering Excellence Group Award from the National Defense Industrial Association (NDIA). The award was established in 2003 to honor Lt. Gen. Thomas R. Ferguson, Jr., USAF, whose leadership embodied the highest ideals in Defense Systems development and deployment.
Dr. Michael Azarian
accepted the award on behalf of CALCE at the 12th Annual Systems Engineering Conference in San Diego.
The Center received the award for demonstrating outstanding achievements in the practical application of Systems Engineering principles, promotion of robust systems engineering principles throughout the organization, and effective systems engineering process developments during the previous year. CALCE systems engineering contributions have helped achieve significant cost savings through new and enhanced processes, procedures and/or concepts, increased mission capabilities, and substantially increased performance. CALCE was nominated in particular for its achievements and leadership in lead free electronics risk identification and mitigation and prognostics and health management of electronics.
CALCE was established in 1986 by founder and current center director Dr. Michael Pecht, in order to provide scientifically based innovative methodologies that decrease life cycle risks for the next generation of electronic products and systems, and to provide an educational and technology transfer infrastructure for their rapid dissemination and utilization. CALCE has been an international leader in reliability assessment of electronics, based on physics-of-failure analysis, ever since.
Other current research at CALCE includes energy conversion and storage, impact of vibration and shock on electronics, simulation of reliability of electronics, telecommunication infrastructure, solid state lighting. The research is supported by hundreds of organizations world wide and academic collaborators include universities all over the globe.
For more information, please contact Dr. Michael Pecht at: pecht@calce.umd.edu or visit the CALCE website: www.calce.umd.edu.
Published November 18, 2009