Students Think the Clark School is "Spooktacular"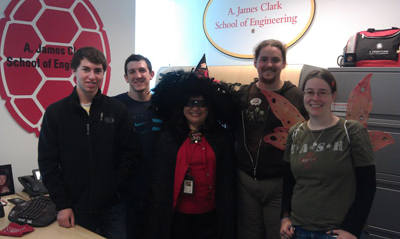 Things got a bit spooky around the Clark School yesterday, as students were invited to tell us why they think the Clark School is "spooktacular." Nearly 60 students visited Clark School Alumni Director Josey Simpson for a Halloween treat and to write what they like most about the Clark School.
Students called out the opportunities available to them, the "crazy experiments" in the labs, and their collaborations with fellow students and faculty and staff.
Three "spooktacular" entries earned Clark School umbrellas for the students who submitted them:
"The Clark School is "spooktacular" because of the great connections with alumni! I am only a freshman and found an internship with a graduate of the Fischell Department of Bioengineering. Could UMD and Engineering be more awesome?!" – Erin McCaffrey

"The Clark School is "spooktacular" because of the caring professors and awesome student engineering groups!" – Leslie Tillman

"The Clark School is "spooktacular" because this place really takes "unstoppable" seriously. The Clark School helps students follow their educational dreams when other universities say no. Scholarships, living-learning programs, internships and fellowships. Thanks for having faith in me!" – Rachel Grafman
Published November 1, 2012