UMD Takes First in Technical Design at DOE Competition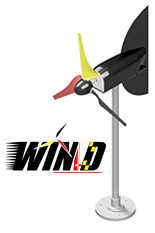 A team of University of Maryland (UMD) students took first place in Technical Design at the U.S. Department of Energy's (DOE) Collegiate Wind Competition 2017 Technical Challenge. The UMD team, Wind TERPines, was one of ten teams from around the country selected to take part in this year's competition held April 20-22 at the National Wind Technology Center in Boulder, Colo.
Wind TERPines included students from across the Clark School of Engineering, the College of Computer, Mathematics and Natural Sciences and the Smith Business School, and they spent two years developing and refining their concept.
"The team's projects are highly interdisciplinary and a diversity of majors and backgrounds is important to the success of the team," explained Andrew Dallas, team captain and senior in aerospace engineering and computer science.
Faculty mentor Professor James Baeder and team members Andrew Jones, Jason Cho, and Michael Queen at competition in Colorado.
This year's Collegiate Wind Competition was a technical challenger that required students to design and build a small-scale wind turbine able to address changing wind directions, and be safe, reliable and effective while using sound engineering practices. The UMD team's 2016 design aimed at developing a wind turbine suitable for agricultural areas with little or no access to grid power.
After finishing a close second in Technical Design at last year's competition, the team worked over the past year to simplify and streamline their turbine for the 2017 challenge.
The competition included two contests: Turbine Testing and Technical Design. During Turbine Testing, each team tests their scale turbine in the competition wind tunnel where they are subjected to different wind patterns up to 40 mph. The turbine is evaluated based on how it performed in areas such as power production and durability.
The Technical Design challenge consisted of a technical report and presentation, which are judged by industry experts for the quality of the team's design and the analysis of their scaled turbine.
The UMD team conducted a number of tests as part of their design development and explored destructive and non-destructive materials testing, component characterization and extensive wind tunnel testing to help their design withstand the rigors of the competition test tunnel.
In addition, they tried out different advanced manufacturing techniques and built various model components using additive manufacturing, CNC machines and composites.
While the team is not on deck to compete next year, Dallas explained that not having the constraints of competition requirements will enable the team to explore more creative wind technologies moving forward. They already have a larger turbine they are working to install and test, as well as developing partnerships with external renewable energy companies to continue the development of other innovative technologies.
Wind TERPines is mentored by Aerospace Engineering Professor James Baeder, Dr. V.T. Nagaraj and Aerospace Engineering Graduate Student Marius Strom.
The U.S. Department of Energy Collegiate Wind Competition challenges undergraduate students to design a wind turbine based on market research, develop a business plan to market the product, build and test the turbine against set requirements, and demonstrate knowledge of siting constraints and location challenges for product installation. The objective of the Collegiate Wind Competition is to prepare students from multiple disciplines to enter the wind energy workforce.
The Wind TERPines Team Members

Andrew Dallas
Team Lead (2015-2017)
Aerospace Engineering
and Computer Science, '17

2016-2017 Student Roster

Michael Queen – Electrical Lead
Electrical Engineering, '18

Jason Cho – Mechanical Lead
Aerospace Engineering, '19

Andrew Jones – Aero Lead
Aerospace Engineering, '18

Matthew Blair – Electronics Design
and Manufacturing Focus
Electrical Engineering, '18

Kevin Chung – Manufacturing Focus
Computer Science, '20

2015-2016 Student Roster

Atif Salahudeen – Engineering Team Lead
Aerospace Engineering, '16

Matt Shumate – Aerodynamics Lead
Aerospace Engineering, '16

Emily Love – Mechanical Lead
Mechanical, '16

Austin Jacobsen – Component Analysis Engineering
Mechanical Engineering, '16

Mario Mondal – Manufacturing Engineering
Aerospace Engineering, '16

Natalie Tham – Structure Lead
Aerospace Engineering, '16

Brandon Draper – Deployment Lead
Aerospace Engineering, '16

Greg Baroni – Deployment Analysis Engineering
Aerospace Engineering, '16

Shriya Gupta – Finance Lead
Finance, '16

Njeri Warrington – Marketing Lead
Marketing, '17
Published April 25, 2017