Balachandran Elevated to Fellow Status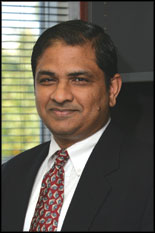 The
American Institute of Aeronautics and Astronautics (AIAA)
has announced the election of Mechanical Engineering Professor and Associate Chair
Balakumar Balachandran
as a 2010 AIAA Fellow. The presentation of the new Fellows and Honorary Fellows will take place during the AIAA Aerospace Spotlight Awards Gala on May 12, 2010, in Washington D.C.
The distinction of Fellow is conferred by AIAA and its board of directors upon outstanding members of the Institute who have made notable and valuable contributions to the arts, sciences, or technology of aeronautics or astronautics.
Professor Balachandran became an Associate Fellow of AIAA in 2009 and was nominated to the rank of Fellow by Dr. Elaine Oran, who works at the Naval Research Laboratory and is also an adjunct faculty member of Aerospace Engineering at the University of Michigan. She cites him for furthering the understanding of nonlinear phenomena in aerospace sciences and structural dynamics over the last two decades.
Currently, Professor Balachandran serves as the Director of Graduate Studies for the Department of Mechanical Engineering. His research interests include nonlinear phenomena, dynamics and vibrations, and control. He has authored numerous publications and is a member of many scientific and professional societies. In the spring semester, Professor Balachandran will teach the course ENME664: Dynamics.
Published January 4, 2010