Alumnus Receives 2020 Guggenheim Fellowship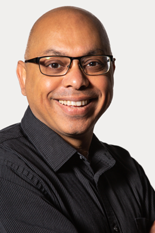 Mechanical Engineering Alumnus Pradeep Sharma (M.S, Ph.D. '00) has been named a 2020 Guggenheim Fellowship recipient for his work "Why Do Some People Hear Music Better Than Others?—An Engineering and Physics Perspective."
In a story published by University of Houston, Sharma said he will use the award to further his work on a question that has puzzled him for years: Why are some people, even those not trained as musicians, able to hear a piece of music and immediately reproduce the melody on a piano or other instrument, while others cannot. His wife, it turns out, is one of those who can. Sharma, despite being "very passionate about music," could not. He devoted himself to the study of music for almost a decade, training himself to translate what he heard into notes he could play.
"Part of it is the brain, but the question I want to ask is, is there something structurally different in her ears that she can hear music better? I am looking for a physics explanation for her ability."
The John Simon Guggenheim Memorial Foundation awards fellowships based on prior achievement and exceptional promise, selecting successful candidates through a rigorous peer-review process. This year's diverse group of 175 writers, scholars, artists, and scientists were selected from among almost 3,000 applicants.
Sharma is the M.D. Anderson Professor and Chair of the Department of Mechanical Engineering at the University of Houston, where he has been a faculty member since 2004. He employs theoretical and computational approaches to understanding physical phenomena across multiple disciplines—from materials science to biology. In collaboration with experimentalists, he uses methods of applied mathematics, continuum mechanics, atomistic and quantum simulations, among others to carry out his research.
Sharma's Ph.D. work at Maryland was in the field of micromechanics of materials under faculty advisor Professor Abhijit Dasgupta.
His honors and awards include the Young Investigators Award from Office of Naval Research, Thomas J.R. Hughes Young Investigator Award from the ASME, Texas Space Grants Consortium New Investigators Program Award, the Fulbright fellowship, the ASME Melville medal, the James R. Rice medal from the Society of Engineering Science and the University of Houston Research Excellence Award. He is also an American Society of Mechanical Engineers (ASME) fellow and has served on the editorial board of several journals, including the Journal of the Mechanics and Physics of Solids.
Since its establishment in 1925, the John Simon Guggenheim Memorial Foundation has granted more than $375 million in Fellowships to over 18,000 individuals, among whom are scores of Nobel laureates, Fields Medalists, poets laureate, members of the national academies, winners of the Pulitzer Prize, Turing Award, Bancroft Prize, National Book Award, and many other internationally recognized honors.
Photo Credit: UH Cullen College of Engineering
Published April 16, 2020