A Game-Changing Education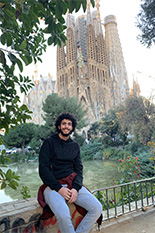 Samy Abisaleh (B.S. '20) entered the UMD mechanical engineering program hesitantly, completely unsure about his future path. He always knew he wanted to find solutions to complex problems, but he was not sure straight away that a mechanical engineering degree would get him there.
"I actually considered dropping out up until my junior year," Samy recalls. His junior year made all the difference, as that Spring was both his "worst and best semester."
Two classes were game-changers for Samy: ENME351 – Electronics and Instrumentation II with Dr. Steve Mitchell, and ENME441 – Mechatronics and the Internet of Things with Dr. Don DeVoe. These classes allowed Samy to think more freely about the field of engineering and gave him a sense of responsibility to learn for himself. From that point on, Samy tailored all his engineering work around the material he learned from those courses.
After receiving his bachelor's degree from UMD, Samy was inspired to further his education. To extend the value of the lessons learned in ENME351 and ENME441, he enrolled in a master's degree program in electrical and computer engineering (ECE)at Cornell Tech in New York City.
"I felt that the ECE program was a logical continuation of those two classes and my ME degree," he says. Samy used the flexibility of his mechanical engineering degree to create an educational structure that works for him and his career goals.
At Cornell Tech, Samy has also taken the leap into entrepreneurship. He recently founded Oil-O, a come-to-your-home vehicle maintenance business that Samy hopes people will one day replace traditional oil service shops. "The biggest goal [of Oil-O] is to always help people while keeping the cost low," he says. Samy is passionate about using his education and experience to help others lead a more efficient and comfortable life.
"Mechanical engineering is a stepping stone to get you where you need to be."
UMD and the Department of Mechanical Engineering were a large part of Samy's journey to embracing the field of engineering and embarking into entrepreneurship. He firmly believes that his struggles at the beginning of his undergraduate career were worth it, as his mechanical engineering degree and the professors in the department guided him down his path to success.
"Don't give up in the engineering process, even if it's hard. Go with the process," Samy advises current students. "At the end of the day, mechanical engineering is a stepping stone to get you where you need to be."

Watch Samy's ENME351 project on youtube
Published February 12, 2021