Bar-Cohen Receives 2014 IEEE Components, Packaging and Manufacturing Technology Field Award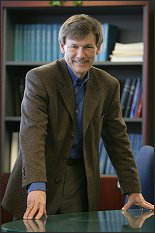 Department of Mechanical Engineering Distinguished University Professor Avram Bar-Cohen won the 2014 Institute of Electrical and Electronics Engineers (IEEE) Components, Packaging and Manufacturing Technology (CPMT) Award. Established in 2002, the CMPT Field award honors significant developments in components, electronic packaging or manufacturing technologies. Bar-Cohen received the award for his contributions to thermal design, modeling and analysis along with his research on heat transfer and liquid-phase cooling.
This annual CPMT award is the highest honor given in the area of electronics packaging, and considered by many to be the "Nobel Prize" in the field. Previous winners include Rao Tummala, Mauro Walker, Dimitry Grabbe, Paul Totta and other luminaries in electronic packaging.
Bar-Cohen is a recognized leader in the development and application of thermal science and engineering to microelectronic, radio frequency (RF) and optoelectronic systems. His research and contributions have helped develop high-reliability consumer electronics, high-performance computing platforms and advanced phased array microwave communication and radar systems. Bar-Cohen's work in the area of immersion cooling of RF and logic components, in addition to air-cooled card cages and heat sinks, have helped lay the scientific foundation for the thermal management of today's micro- and nanoelectronic components and systems.
Bar-Cohen is currently serving as a program manager in the Microsystems Technology Office of the Defense Advanced Research Projects Agency (DARPA) while on leave from the Department of Mechanical Engineering. At DARPA he oversees the Intrachip/Interchip Enhanced Cooling (ICECool) and Thermal Management Technologies (TMT) programs that apply thermal management research to advancing defense electronics and computers.
This is the second award Bar-Cohen has received from IEEE's Components, Packaging and Manufacturing Society. He received the Outstanding Sustained Technical Contribution Award in 2002 for his contributions to thermal management. He is also a member-at-large of the society's board of directors, a CPMT Distinguished Lecturer and previously served as the Editor-in-Chief of the CPMT Transactions. Bar-Cohen is the Editor-in-Chief of the recently released Encyclopedia of Thermal Packaging and served as Chair of the UMD Mechanical Engineering Department from 2001-2010 and a faculty member in the CALCE packaging center.
"Avi's seminal work on thermal management is very important and timely to modern, high-performance electronics," said 2006 CPMT Field Award Winner, National Academy of Engineering member and Georgia Tech Charles Smithgall Institute Endowed Chair and Regents' Professor C. P. Wong. "His work has had many impacts on industry and government projects, and is no doubt first class research by any measure."
For more information on Bar-Cohen and his research, visit his faculty webpage.
Published November 18, 2013