Ashwani Gupta Awarded the ASME Worcester Reed Warner Medal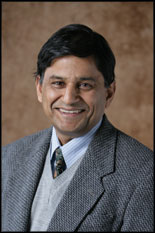 The Department of Mechanical Engineering is pleased to announce that Distinguished University Professor,
Ashwani Gupta
, has recently been recognized by the American Society of Mechanical Engineers (ASME) with the
Worcester Reed Warner Medal
for 2008. Gupta received the award at the 2009 ASME Power Conference held in Albuquerque, New Mexico in late July.
According to the ASME website, the Worcester Reed Warner Medal is given annually to an individual for "outstanding contributions to the permanent literature of engineering." In order to be considered for the award, the literature must be at least five years old. According to Gupta, "This practice is done to insure that the publications have made a substantial impact in the engineering community." He adds, "The scholarship has been viewed, cited and recognized by your peers." A certificate, medal and monetary prize accompany the honor.
Gupta's research interests are in the areas of swirl flows in combustion, gas turbine combustion, spray combustion, furnaces and boilers, thermal destruction of solid and liquid wastes, combustion of alternative fuels, highly preheated air combustion, air pollution and laser diagnostics.
Other notable awards that Gupta has received include the ASME George Westinghouse Gold Medal (1998), the ASME James Harry Potter Gold Medal (2003) and the ASME James N. Landis Medal (2004). He is a Fellow of ASME, as well as of the Society of Automotive Engineers (SAE) and the American Institute of Aeronautics and Astronautics (AIAA). Professor Gupta joined the department in 1983. He received his Ph.D. from the University of Sheffield, England.
Published November 24, 2009