J. Edmon Lee Perkins Awarded Ford Foundation Fellowship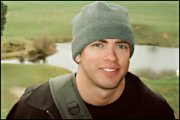 "This is a significant recognition for Edmon, which augurs well for his academic pursuits."
The Department of Mechanical Engineering is pleased to announce that ME doctoral student J. Edmon Lee Perkins has received a
2011 Ford Foundation Predoctoral Fellowship
. Ford Foundation Fellowships are offered at the predoctoral, dissertation and postdoctoral levels and provide three years of support for individuals engaged in graduate study leading to a Doctor of Philosophy (Ph.D.) or Doctor of Science (Sc.D.) degree. The fellowship also includes a $20,000 annual stipend, a $2,000 award for tuition and fees, paid expenses to attend at least one Conference of Ford Fellows, and access to Ford Fellow Liaisons, a network of former Ford Fellows who mentor current fellows. Fellowships are granted as the result of a national competition recognizing graduate students who have demonstrated superior academic achievement, are committed to a career in teaching and research at the college or university level, and are dedicated to using diversity as an educational and enrichment resource.
Perkins is one of two of the University of Maryland's first Ford Fellowship recipients in over three years. Perkins was humbled by the honor, stating, "This is a great opportunity, and one by which I am both deeply honored and pleasantly surprised." Remarking on the fellowship award, Perkins' faculty advisor Professor Bala Balachandran, Chair of the Department of Mechanical Engineering, adds, "This is a significant recognition for Edmon, which augurs well for his academic pursuits."
The Ford Foundation Fellowship Program awarded approximately 40 predoctoral fellowships in 2011 as part of its efforts to increase the diversity among the nation's college and university faculties by improving the ethnic and racial diversity of faculty rosters, maximizing the educational benefits of diversity, and expanding the number of professors who use diversity to improve the classroom experience for all students.
For more information on the Ford Foundation Fellowship, please click here.
Portions of text courtesy of Ford Foundation and The National Academies.
Published August 24, 2011