Azarm Awarded ASME Robert E. Abbott Award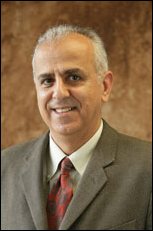 Department of Mechanical Engineering Professor Shapour Azarm has won the 2016 American Society of Mechanical Engineers (ASME) Robert E. Abbott Award. The honor, established in 1978, is awarded annually to a Design Engineering Division (DED) society member who has "served the Division beyond the call of duty." Members are nominated by friends and colleagues to the organization, and then voted on by the division board.
This is not the first time Azarm has been honored by ASME. In 2009, he was awarded the Best Paper award at their annual Design Automation Conference and named an ASME Fellow in February 2004. He previously won their ASME Design Automation Award for his contributions to the field. He is an operating board member of the ASME Systems and Design Group, the largest in the ASME community, and also currently serves as the editor of the ASME Journal of Mechanical Design, a position he has held since 2013. He has also served as the faculty mentor for the ASME student chapter on campus.
In addition to his work with ASME, Azarm is a senior member of the American Institute of Aeronautics and Astronautics (AIAA), the International Society of Multiple Criteria Decision Making (MCDM) and the International Society for Structural and Multidisciplinary Optimization (ISSMO).
Azarm received his Ph.D. from the University of Michigan, Ann Arbor, in 1984. He then joined the University of Maryland where he currently serves as Director of Design Decision Support Laboratory.
ASME is a professional organization that helps the global engineering community to develop solutions to real world problems. The society was founded in 1880 and has a rich history of endorsing the education and advancement of technical knowledge and skills.
The University of Maryland (UMD) Department of Mechanical Engineering has 15 faculty members who are ASME members.
Azarm will be presented with the award at the 2016 International Design Engineering Conference (IDETC) held on August 21-24 in Charlotte, North Carolina.
Published June 6, 2016