Gupta Awarded AIAA Pendray Aerospace Literature Award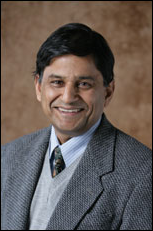 Department of Mechanical Engineering Distinguished University Professor Ashwani Gupta has been named the 2017 recipient of the American Institute of Aeronautics and Astronautics (AIAA) Pendray Aerospace Literature Award. The award is presented for an outstanding contribution to aeronautical and astronautical literature, with an emphasis on the high quality or major influence of the piece. It is named in honor of Dr. G. Edward Pendray, a founder and former president of the American Rocket society.
Gupta was cited for his "exemplary contributions to the aerospace literature especially on swirl flows and high temperature combustion technology, and for his services as book series editor and associate editor of journals." He has been an AIAA fellow since 1992.
Over the course of Gupta's career, he has authored over 700 technical papers, three books, 12 edited books and 12 book chapters. In 2016, Gupta was elected to Fellowship of the Royal Aeronautical Society (RAeS), UK, the highest professional recognition bestowed by the RAeS. He also received the Golden Elephant Award from Thailand's Surindra Rajabhat University in recognition of his scientific achievements and collaborative efforts with their university.
He is currently a Fellow of the American Institute of Aeronautics and Astronautics (AIAA), American Association for the Advancement of Science (AAAS), American Society of Mechanical Engineers (ASME) and the Society of Automotive Engineers (SAE) and RAeS. Last fall, Gupta was also recognized as an Honorary ASME Fellow during 2016 ASME's International Mechanical Engineering Congress & Exposition Conference's Honor's Assembly.
Gupta received this award during the annual AIAA Science and Technology (SciTech) conference January 9-13 held in Grapevine, Texas.
Published February 2, 2017