Schmidt Named 2016-2017 Undergraduate Studies Faculty Fellow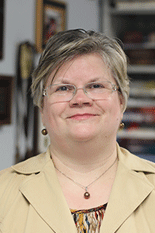 Department of Mechanical Engineering Professor Linda Schmidt has been chosen as a University of Maryland (UMD) Undergraduate Studies Faculty Fellow for the 2016-2017 academic year. This program is sponsored by the Office of Undergraduate Studies to foster a faculty learning community that addresses UMD's issues of importance to undergraduate education. A small group of faculty members from different disciplines work together each year to discover new ways to improve undergraduate education at the university.
This year's group of fellows will investigate the topic of "Academic Integrity and Student Learning." Academic integrity at UMD refers to cheating, fabrication, facilitating academic dishonesty and plagiarism. Previous topics included "Learning from Student Work" and "The Challenges and Opportunities in Teaching a Large Enrollment Course."
Schmidt has previously worked on issues regarding education. In 2012, she was invited to and attended the National Academy of Engineering's (NAE) sixth Frontiers of Engineering Education (FOEE) Symposium. This is a two-and-a-half day event that brings together the nation's most innovative engineering educators to share ideas, learn from research and best practice in education and leave with a charter to bring about improvement in their home institution. She was one of 77 engineers chosen for this honor.
Throughout her time at Maryland, she has taught multiple courses in system and product design theory and methodology, and has been an integral part of the departments' capstone design curriculum. She has served as director of the Design ME Suite since 1999, which today includes the Create & Test Lab, Modeling Lab and Ideation Lab.
Schmidt has authored or co-authored four books, including two editions of Engineering Design, considered a major design text publication of McGraw-Hill Higher Education.
Over the course of her career she has received numerous honors and recognitions, such as the "Outstanding Gemstone Mentor Award" from the Gemstone Program at Maryland and the American Society for Engineering Education's (ASEE) "Fred Merryfield Design Award."
Published August 19, 2016