Alumnus Ethan Zweig Awarded 2020 Daily Record Excellence in Construction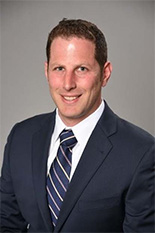 Alumnus Ethan Zweig (B.S. mechanical engineering '07) is the recipient of the 2020 Daily Record Excellence in Construction Award. As director of project management for Tradepoint Atlantic, Zweig is responsible for managing the entirety of a project from its conception to its design and construction. He works closely with all project stakeholders to deliver projects on time and within budget.
As reported by the Daily Record, Zweig brings engineering and project management expertise to Tradepoint Atlantic, and he was promoted from project manager to director of project management within just four months of joining the firm. Zweig states that his success results directly from his family, as they have supported him through the projects that require focused attention and long hours of work to complete.
The Daily Record also reports that, during his 13 plus years of experience, Zweig has been involved in some of Baltimore's most notable commercial projects, including Guinness Open Gate Brewery, the Volkswagen processing facility, the Amazon fulfilment center, and many of MedStar Health's ambulatory service centers. Speaking to the Daily Record about his contribution to the Baltimore social and economic development, Zweig says, "All projects have a purpose, but I feel especially fortunate that I've been able to be intimately involved with such signature projects for the health, employment opportunity, and entertainment of our community."
In addition to his mechanical engineering degree, Zweig holds a master's degree in Real Estate Development from Georgetown University.
Published November 17, 2020